Dean, College of Marine Science
University of South Florida
Dr. Jacqueline Dixon is Dean of the College of Marine Science at the University of South Florida. She received her bachelor's and master's degrees in geology from Stanford University and a Ph.D. in geochemistry from the California Institute of Technology. From 1992 through 2010, Dr. Dixon was at the University of Miami, where she served as Director of the Abess Center for Ecosystem Science and Policy's Undergraduate Program, Senior Associate Dean for the Life and Physical Sciences, and Interim Dean of the College of Arts and Sciences. She received an Early Career Development award from the National Science Foundation for excellence in research and education, and is internationally recognized for her research on submarine volcanoes and the role of volatiles in magmatic processes.
Dr. Dixon will serve an initial three-year term.
Christopher R. German, PhD
Senior Scientist, Geology and Geophysics
Woods Hole Oceanographic Institution
Chris German is a UK native who grew up in Rochester, England, where the two preceding generations of his family had worked in the local Naval Dockyard.
After receiving a Bachelor's degree in Chemistry and Geology and a PhD in Marine Geochemistry (both at the University of Cambridge, UK) Chris first moved to the U.S. in 1988-90 as a NATO Post-Doctoral Fellow studying hydrothermal vent systems with Professor John Edmond at the Massachusetts Institute of Technology. During this period, Chris had his first experiences at sea with Alvin, in 1988 and 1989.
From 1990 to 2000, Chris helped pioneer the field of systematic exploration of ridge-crests for hydrothermal activity while working in the UK and then, between 2000 and 2005, he served as co-PI for the proposal that acquired the UK's first deep-diving ROV (Isis, sister to WHOI's Jason). It was during this same period that he also began to pursue new directions, both in astrobiology and in the use of autonomous vehicles equipped with in situ sensors and artificial intelligence for ocean exploration.
In 2005, Chris returned to WHOI as a Senior Scientist in the Geology and Geophysics Department where he also served as WHOI's Chief Scientist for Deep Submergence from 2006 to 2014, culminating in the relaunch of the newly upgraded Alvin, just in time for its 50th Birthday celebrations.
A veteran of more than 50 research expeditions comprising more than three years at sea, Chris has also served as Chair or Co-Chair for major international programs ranging from InterRidge to the Census of Marine Life as well as advising on issues concerning seafloor mining at the International Seabed Authority.
Past awards include the MBE Medal "for services to Marine Science" by Queen Elizabeth II in 2002, a Doctor of Science (Sc.D.) degree from the University of Cambridge, UK in 2007 and an Alexander von Humboldt research award from the German government in 2014.
While recent events have seen Chris turn his skills to help with responses to the Deepwater Horizon oil spill and the Fukushima Nuclear Power Plant accident, his first love remains the exploration for and investigation of deep-sea chemosynthetic ecosystems. His most recent cruises have taken him from the Caribbean, south to the southernmost tip of Chile and north to the ice-covered Arctic. Most recently, Chris has co-led an expedition spanning more than half breadth of the South Pacific from Peru to Tahiti; pioneered use of a new under-ice ROV in the Arctic Ocean and developed a new program research methods for using telepresence more effectively for ocean exploration, research and education.
Business Consultant
Cameron R. Hume was U.S. Ambassador to Indonesia from 2007 to 2010. He retired from the Foreign Service with a rank of Career Minister. His earlier assignments included Italy, Tunisia, Syria, Lebanon, the United Nations, and the Holy See. More recently, he served as Ambassador to Algeria and to South Africa, and as Charge d'Affaires to Sudan. While Ambassador to Indonesia, he focused on oceans, climate changes, and education as elements of "soft power" diplomacy. He has published three books and numerous articles on foreign policy, and has been a fellow or guest scholar at the Council on Foreign Relations, Hard University's Center for International Affairs, and the United States Institute for Peace. He is a lawyer and admitted to practice in New York and the District of Columbia. His foreign languages include Arabic, French, and Italian.
Ambassador Hume led the effort to bring the NOAA ship Okeanos Explorer to Indonesia for the Indonesia-U.S. ocean exploration partnership expedition—the first ever such joint expedition in Indonesia. He considers the U.S. Indonesia ocean exploration partnership and the Okeanos Explorer visit to Indonesia as a defining event of his tenure there.
Since leaving the Foreign Service, Ambassador Hume has served as a consultant to various interests based in Indonesia. He brokered a settlement between Greenpeace and Sinar Mas, one of the world's largest palm oil producers, that committed the company to less disruptive forestry practices. He also served as a panelist on the Decadal Independent Review of the NOAA ocean exploration program.
Ambassador Hume will serve an initial five-year term.
Amanda W. J. Demopoulos, PhD
Research Ecologist
U.S. Geological Survey
Dr. Amanda W.J. Demopoulos received a B.S. in Oceanography from the University of Washington (1996) and M.S. (2000) and Ph.D. (2004) in Biological Oceanography from the University of Hawaii at Manoa. After completing a post-doctoral position at Scripps Institution of Oceanography, in 2007, she joined the U.S. Geological Survey in her current position as a Research Benthic Ecologist at the Southeast Ecological Science Center in Gainesville, Florida. Her research examines the community structure and function of benthic organisms found in coastal wetlands, seagrasses, mangroves, shallow and deep-sea coral habitats, and chemosynthetic environments. In addition to serving as member of the OEAB, she is also a member of the Deep Submergence Science Committee (DESSC).
Consultant
Mr. Kreider has more than 40 years' experience as an ocean engineer and leader developing and operating unique ocean systems and performing projects in unforgiving environments for commercial and government customers. Through 2017, Mr. Kreider was Senior Vice-President of Oceaneering Advanced Technologies (ADTECH) and an Executive Officer of Oceaneering International, Inc., a $2 billion publicly-traded company on the NYSE. In this position, he led an organization of 1500 employees and had broad P&L responsibility for all non-oilfield business, including manned and unmanned projects in space, undersea, and on land. Prior to Oceaneering, Mr. Kreider was Vice-President at Eastport International (1987 – 1992), Vice-President at Arctec Incorporated (1982 – 1987), and manager at Shell Oil/Shell Development Company (1975 – 1982). Mr. Kreider earned a BS in Chemical Engineering from Lehigh University and MS and Engineer's Degrees in Ocean Engineering from Massachusetts Institute of Technology and Woods Hole Oceanographic Institution. Mr. Kreider has been a member of the NOAA Ocean Exploration Advisory Board since 2014 and Chair since 2017, and he also serves as Sea Space Symposium Chairman of Board.
Mr. Kreider will serve an initial four-year term.
Co-founder and Vice President of Business Development and Outreach
Sofar Ocean Technologies

David Lang is an entrepreneur, writer, and a co-founder of Sofar Ocean Technologies. Prior to Sofar, he co-founded OpenROV to create a low-cost underwater drones as well as OpenExplorer, a digital field journal to empower and connect citizen scientists and explorers. His work has been featured in the New York Times, WIRED, and National Geographic. His TEDTalks have been viewed by millions online. Lang is the author of Zero to Maker—part memoir and part guidebook for participating in the growing maker movement. He is also a TED Senior Fellow.

Mr. Lang will serve an initial three-year term.
Research Scientist
NASA Ames Research Center
Darlene Lim is a geobiologist based at the NASA Ames Research Center, and is a leader in the development of operational concepts for human-robotic scientific exploration. Darlene is currently the Principal Investigator (PI) of the NASA-funded Pavilion Lake Research Project (PLRP), and the Deputy PI of the NASA "Field Investigations to Enable Solar System Science and Exploration" (FINESSE) research program. Both programs are focused on real (nonsimulated) science and exploration activities that seamlessly blend field science research with the development of human exploration tools, technologies and concepts. Under her leadership and guidance, the PLRP has become one of NASA's premier analog programs. PLRP has produced numerous peer-reviewed publications, and also garnered an international reputation for producing innovative concepts and capabilities that support human scientific exploration.
Darlene has spent over 20 years conducting field research around the world, and has worked in both the Arctic and Antarctic, as well as in underwater environments where she has spent hours piloting submersibles as a scientist and explorer. She has participated in numerous NASA field programs in various extreme environments and serves as the NASA MEPAG (Mars Exploration Program Analysis Group) Goal IV (Prepare for Human Exploration) Co-Chair.
Dr. Lim will serve an initial four-year term.
Vice President for Communications and External Relations
National Ocean Industries Association
Nicolette Nye is the Vice President Communications and External Relations for the National Ocean Industries Association (NOIA) in Washington, DC. She staffs NOIA's Health, Safety, Security and Environment Committee as well as the Offshore Renewables Committee. Before joining NOIA in 2008, Nicolette worked for nearly a decade at the Department of the Interior's Minerals Management Service (MMS) where she held various public affairs positions, including acting Chief of Public Affairs and National Offshore Public Affairs Lead. She began her federal government career as a public affairs specialist at the Consumer Product Safety Commission in Bethesda, MD. Nicolette is also a retired Navy Chief Journalist, who did print, broadcasting, and public affairs tours in Virginia, Japan and Hawaii. Born in England, Nicolette is a naturalized U.S. citizen, who enjoys the outdoors and athletics. She recently completed her first sprint triathlon, is a certified SCUBA diver, has sky-dived, and enjoys skiing and hiking.
Ms. Nye will serve an initial three-year term.
CEO/Chief Scientist
Hadal, Inc.
Richard Rikoski is the CEO and Chief Scientist of a stealth mode startup anchoring the Marine Technology Cluster in Oakland, CA. Prior to that he was a researcher at the Naval Surface Warfare Center in Panama City, FL where he received 10 patents for various marine robotic systems. He holds a bachelor's degree in mechanical engineering and economics from Carnegie Mellon University, a master's degree in ocean engineering from MIT, and received the first doctorate in marine robotics from MIT. As a member of the OEAB, he intends to focus on partnerships, data, technology, and budget.
In his view, priorities for a national ocean exploration program include mapping the U.S. Exclusive Economic Zone, rapidly assessing the water column on basin scales, and global genome mapping. Dr. Rikoski believes there is a need for paths that lead to goal achievement, development of enabling technologies, appropriate partnerships, and allocation of sufficient budgets. He describes the need this way: "It is very difficult to explore a 12 million square kilometer Exclusive Economic Zone, and another 5.5 million square kilometers of treaty obligations; this is simply too much territory to adequately explore with so little. As the nation with the largest Exclusive Economic Zone, the U.S. must make ocean exploration a responsibility and a priority." Dr. Rikoski believes international partnerships are critical to advance global exploration priorities and notes that technology will drive the ability to pursue such goals. He encourages use of public and private sector partners, the identification of global partners who can exchange data to prevent duplications of effort, and data partners who can ensure data is properly documented and distributed.
Dr. Richard Rikoski will serve an initial three year term.
University of California, San Diego
Dr. Dominique Rissolo is an archaeologist and special projects coordinator for the Center of Interdisciplinary Science for Art, Architecture, and Archaeology (CISA3) at the University of California, San Diego. Prior to coming to UCSD, Dominique oversaw the acquisition and management of a deep submergence capability for the Waitt Institute, in partnership with Woods Hole Oceanographic Institution, and worked closely with agencies and universities to plan and execute oceanographic and marine archaeological survey and research projects using AUV, ROV, HOV, R/V platforms. Dominique continues to direct the National Geographic Society/Waitt Foundation (NGS/Waitt) Grants Program and the Rapid Ocean Conservation (ROC) Grants Program on behalf of the Waitt Foundation. As an archaeologist, Dominique's interdisciplinary research focuses on paleocoastal human ecology and the development of ancient maritime trade networks along the Yucatan coast. His work on the Yucatan Peninsula has also focused on ancient Maya and Paleoamerican cave and cenote use as well as coastal and near-coastal settlement patterns and the rise of social complexity in the region. Dominique is an adjunct professor at San Diego State University (Department of Anthropology) and McMaster University (School of Geography and Earth Sciences).
Dr. Rissolo will serve an initial four-year term.
Consultant
Lance Towers was the director of Advanced Technology Programs (ATP) for Electronic and Information Solutions (E&IS), a division within Boeing Network and Space Systems (BN&SS). In this role, Towers oversaw the Advanced Technology Programs business, which is headquartered in Huntington Beach, California. ATP has approximately 500 employees throughout the United States who specialize in small, lightweight, low-power electronics; remote unattended sensors; network communications solutions; mission planning and field support; operations support and sustainment; unmanned underwater systems; and acoustics solutions.
Towers has more than 28 years of engineering and management experience. He holds a Bachelor of Science degree in electrical engineering and a Master of Science degree in communication theory from California State Polytechnic University of Pomona. He is also a registered professional electrical engineer with the state of California.
Mr. Towers will serve an initial three-year term.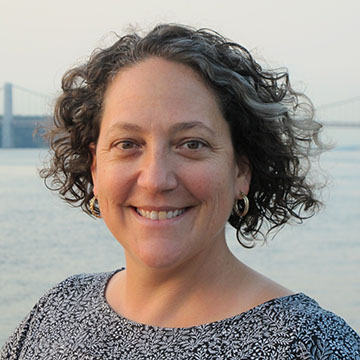 Research Scientist
Columbia University Lamont-Doherty Earth Observatory
Vicki Ferrini is a senior research scientist at Columbia University's Lamont-Doherty Earth Observatory and an affiliate associate professor at the Center for Coastal and Ocean Mapping at the University of New Hampshire. Her research interests include seabed mapping and geoinformatics, and she has focused most of her career working to make marine geoscience data findable, accessible, interoperable, and reusable (FAIR). She has a leadership role in several projects related to the management and integration of marine geoscience data including the National Science Foundation-funded Marine Geoscience Data System, Multibeam Advisory Committee, and Global Multi-Resolution Topography Synthesis. She serves as the chair of the GEBCO Sub-Committee for Regional Undersea Mapping and is an ex-officio member of the GEBCO Guiding Committee. As head of the Seabed 2030 Regional Data Center for the Atlantic and Indian Oceans, she works closely with stakeholders to develop regional bathymetric data products that contribute to international global syntheses.
Director of Operations
Schmidt Ocean Institute
Eric King received a Bachelor of Science in marine transportation from Maine Maritime Academy, a diploma in ship management from North West Kent College, and a Master of Science in public administration from the University of Washington's Daniel J. Evans School of Public Policy and Governance. He is also a graduate of the Evans School's Nonprofit Executive Leadership Institute. After an early career as an officer in the U.S. Coast Guard, followed by supporting the management of U.S. government and commercially funded marine salvage projects, he transitioned to the ocean sciences community as a program manager for the University of Washington's School of Oceanography. He was brought aboard the philanthropy-funded nonprofit operating foundation Schmidt Ocean Institute in 2010 to help stand up the newly founded organization and prepare the institute's global class oceanographic research vessel for a decade of collaborative deep-sea expeditions with scientists, researchers, and engineers. For the past 10 years, he has led efforts to advance the frontiers of global marine research by providing state-of-the-art operational, technological, and informational support to pioneering ocean science and technology development projects at sea.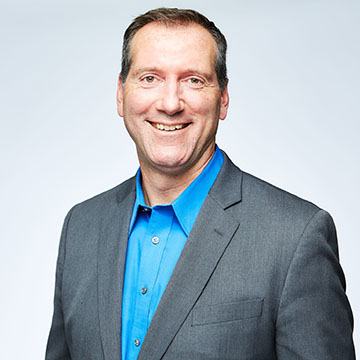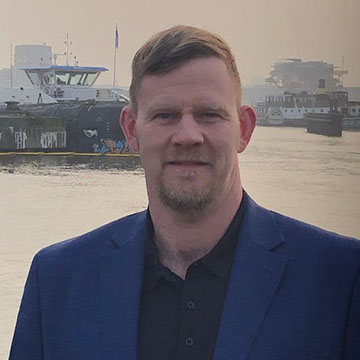 Founder and President
Just Innovation Inc.
Justin Manley is an innovative technologist and executive with experience in startup, corporate, academic, and public sectors. Manley is a recognized leader in uncrewed systems development and operations. He has employed ocean robots in fieldwork including mapping the RMS Titanic and the search for submerged debris from the Space Shuttle Columbia. In mid-2015 Manley founded Just Innovation Inc., where he advises a variety of clients with a focus on ocean technology and robotics. Since 2015, Just Innovation has supported over 50 clients, including global defense contractors, energy "majors," and innovation ecosystems such as Canada's Ocean Supercluster. Manley is very active in professional organizations including the Marine Technology Society, where he is a life member and will become president-elect in 2021 and IEEE where he is a senior member. He is dedicated to innovation, advising startup companies and investors, and serving as a judge for the ANA Avatar XPRIZE. He holds two patents in uncrewed systems oversight and security along with bachelor's and master's degrees in ocean engineering from the Massachusetts Institute of Technology.
Government Accounts Director
Fugro USA, Inc.
David Millar is Fugro's government accounts director for the Americas Region. Based in the Washington, D.C., area, Millar serves as Fugro's key account manager for the U.S. government, other national governments within the Americas Region, the United Nations, the World Bank, and other multilateral development banks. He is responsible for overseeing the development and execution of Fugro's partnerships with public sector clients and overseeing Fugro's collaborative science (with government, academia, and nongovernmental organizations) activities within the Americas Region.
Millar also leads Fugro's global support of and participation in Seabed 2030 and the United Nations Decade of Ocean Science for Sustainable Development. He is a current member of the GEBCO Guiding Committee, former Board Member of The Maritime Alliance, and has more than 30 years of ocean mapping, marine geophysical, and hydrographic survey experience. Over his professional career, he has been involved in various aspects of ocean mapping, exploration, and characterization, spanning field hydrography, operations management, software development management, business development, and executive management. He holds a Bachelor of Science in math and physics from Mount Allison University (Canada) and a Bachelor of Science in Engineering in survey engineering from the University of New Brunswick (Canada).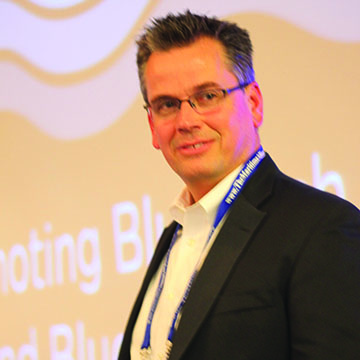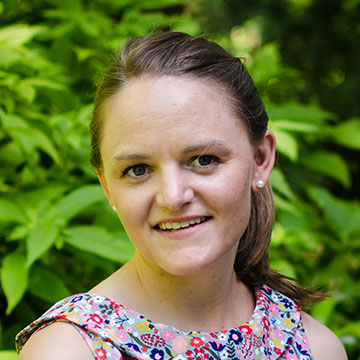 Ocean Engineer
Johns Hopkins Applied Physics Laboratory
Clara Smart is an ocean systems engineer with a focus on sensors, seafloor mapping, field testing, and system-level evaluation. Following the completion of her doctorate in 2016 at the University of Rhode Island (Chris Roman, PhD, advisor), she joined Johns Hopkins University Applied Physics Lab as a research engineer. She has experience in sensor implementation, algorithm development, fieldwork/test and evaluation, data collection, and data analysis for both oceanographic research and the Department of Defense. During the course of her work, she has gained substantial at-sea experience conducting oceanographic research and performing test and evaluation of a variety of ocean sensors and systems.