Ambassador Cameron Hume
OEAB Chair
Business Consultant
Cameron R. Hume was U.S. Ambassador to Indonesia from 2007 to 2010. He retired from the Foreign Service with a rank of Career Minister. His earlier assignments included Italy, Tunisia, Syria, Lebanon, the United Nations, and the Holy See. More recently, he served as Ambassador to Algeria and to South Africa, and as Charge d'Affaires to Sudan. While Ambassador to Indonesia, he focused on oceans, climate changes, and education as elements of "soft power" diplomacy. He has published three books and numerous articles on foreign policy, and has been a fellow or guest scholar at the Council on Foreign Relations, Harvard University's Center for International Affairs, and the United States Institute for Peace. He is a lawyer and admitted to practice in New York and the District of Columbia. His foreign languages include Arabic, French, and Italian.
Ambassador Hume led the effort to bring the NOAA ship Okeanos Explorer to Indonesia for the Indonesia-U.S. ocean exploration partnership expedition—the first ever such joint expedition in Indonesia. He considers the U.S. Indonesia ocean exploration partnership and the Okeanos Explorer visit to Indonesia as a defining event of his tenure there.
Since leaving the Foreign Service, Ambassador Hume has served as a consultant to various interests based in Indonesia. He brokered a settlement between Greenpeace and Sinar Mas, one of the world's largest palm oil producers, that committed the company to less disruptive forestry practices. He also served as a panelist on the Decadal Independent Review of the NOAA ocean exploration program.
Christopher R. German, PhD
Senior Scientist, Geology and Geophysics Woods Hole Oceanographic Institution
Chris German is a UK native who grew up in Rochester, England, where the two preceding generations of his family had worked in the local Naval Dockyard.
After receiving a Bachelor's degree in Chemistry and Geology and a PhD in Marine Geochemistry (both at the University of Cambridge, UK) Chris first moved to the U.S. in 1988-90 as a NATO Post-Doctoral Fellow studying hydrothermal vent systems with Professor John Edmond at the Massachusetts Institute of Technology. During this period, Chris had his first experiences at sea with Alvin, in 1988 and 1989.
From 1990 to 2000, Chris helped pioneer the field of systematic exploration of ridge-crests for hydrothermal activity while working in the UK and then, between 2000 and 2005, he served as co-PI for the proposal that acquired the UK's first deep-diving ROV (Isis, sister to WHOI's Jason). It was during this same period that he also began to pursue new directions, both in astrobiology and in the use of autonomous vehicles equipped with in situ sensors and artificial intelligence for ocean exploration.
In 2005, Chris returned to WHOI as a Senior Scientist in the Geology and Geophysics Department where he also served as WHOI's Chief Scientist for Deep Submergence from 2006 to 2014, culminating in the relaunch of the newly upgraded Alvin, just in time for its 50th Birthday celebrations.
A veteran of more than 50 research expeditions comprising more than three years at sea, Chris has also served as Chair or Co-Chair for major international programs ranging from InterRidge to the Census of Marine Life as well as advising on issues concerning seafloor mining at the International Seabed Authority.
Past awards include the MBE Medal "for services to Marine Science" by Queen Elizabeth II in 2002, a Doctor of Science (Sc.D.) degree from the University of Cambridge, UK in 2007 and an Alexander von Humboldt research award from the German government in 2014.
While recent events have seen Chris turn his skills to help with responses to the Deepwater Horizon oil spill and the Fukushima Nuclear Power Plant accident, his first love remains the exploration for and investigation of deep-sea chemosynthetic ecosystems. His most recent cruises have taken him from the Caribbean, south to the southernmost tip of Chile and north to the ice-covered Arctic. Most recently, Chris has co-led an expedition spanning more than half breadth of the South Pacific from Peru to Tahiti; pioneered use of a new under-ice ROV in the Arctic Ocean and developed a new program research methods for using telepresence more effectively for ocean exploration, research and education.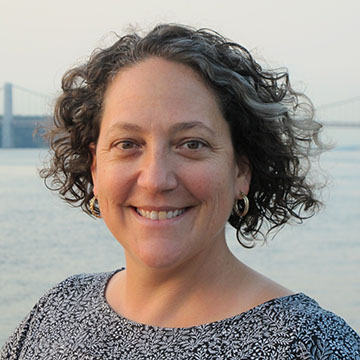 Research Scientist
Columbia University Lamont-Doherty Earth Observatory
Vicki Ferrini is a senior research scientist at Columbia University's Lamont-Doherty Earth Observatory and an affiliate associate professor at the Center for Coastal and Ocean Mapping at the University of New Hampshire. Her research interests include seabed mapping and geoinformatics, and she has focused most of her career working to make marine geoscience data findable, accessible, interoperable, and reusable (FAIR). She has a leadership role in several projects related to the management and integration of marine geoscience data including the National Science Foundation-funded Marine Geoscience Data System, Multibeam Advisory Committee, and Global Multi-Resolution Topography Synthesis. She serves as the chair of the GEBCO Sub-Committee for Regional Undersea Mapping and is an ex-officio member of the GEBCO Guiding Committee. As head of the Seabed 2030 Regional Data Center for the Atlantic and Indian Oceans, she works closely with stakeholders to develop regional bathymetric data products that contribute to international global syntheses.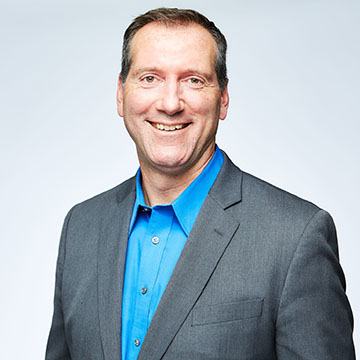 Director of Operations
Schmidt Ocean Institute
Eric King received a Bachelor of Science in marine transportation from Maine Maritime Academy, a diploma in ship management from North West Kent College, and a Master of Science in public administration from the University of Washington's Daniel J. Evans School of Public Policy and Governance. He is also a graduate of the Evans School's Nonprofit Executive Leadership Institute. After an early career as an officer in the U.S. Coast Guard, followed by supporting the management of U.S. government and commercially funded marine salvage projects, he transitioned to the ocean sciences community as a program manager for the University of Washington's School of Oceanography. He was brought aboard the philanthropy-funded nonprofit operating foundation Schmidt Ocean Institute in 2010 to help stand up the newly founded organization and prepare the institute's global class oceanographic research vessel for a decade of collaborative deep-sea expeditions with scientists, researchers, and engineers. For the past 10 years, he has led efforts to advance the frontiers of global marine research by providing state-of-the-art operational, technological, and informational support to pioneering ocean science and technology development projects at sea.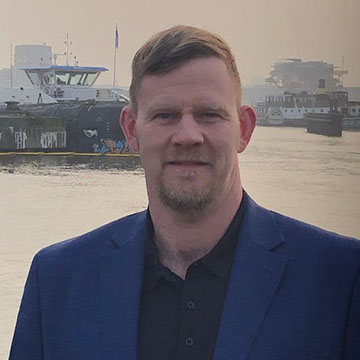 Founder and President
Just Innovation Inc.
Justin Manley is an innovative technologist and executive with experience in startup, corporate, academic, and public sectors. Manley is a recognized leader in uncrewed systems development and operations. He has employed ocean robots in fieldwork including mapping the RMS Titanic and the search for submerged debris from the Space Shuttle Columbia. In mid-2015 Manley founded Just Innovation Inc., where he advises a variety of clients with a focus on ocean technology and robotics. Since 2015, Just Innovation has supported over 50 clients, including global defense contractors, energy "majors," and innovation ecosystems such as Canada's Ocean Supercluster. Manley is very active in professional organizations including the Marine Technology Society, where he is a life member and will become president-elect in 2021 and IEEE where he is a senior member. He is dedicated to innovation, advising startup companies and investors, and serving as a judge for the ANA Avatar XPRIZE. He holds two patents in uncrewed systems oversight and security along with bachelor's and master's degrees in ocean engineering from the Massachusetts Institute of Technology.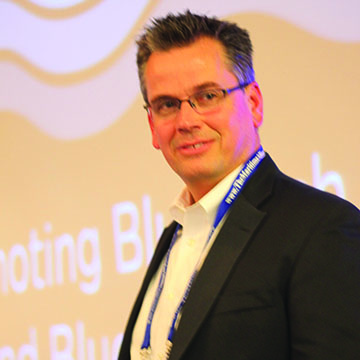 Government Accounts Director
Fugro USA, Inc.
David Millar is Fugro's government accounts director for the Americas Region. Based in the Washington, D.C., area, Millar serves as Fugro's key account manager for the U.S. government, other national governments within the Americas Region, the United Nations, the World Bank, and other multilateral development banks. He is responsible for overseeing the development and execution of Fugro's partnerships with public sector clients and overseeing Fugro's collaborative science (with government, academia, and nongovernmental organizations) activities within the Americas Region.
Millar also leads Fugro's global support of and participation in Seabed 2030 and the United Nations Decade of Ocean Science for Sustainable Development. He is a current member of the GEBCO Guiding Committee, former Board Member of The Maritime Alliance, and has more than 30 years of ocean mapping, marine geophysical, and hydrographic survey experience. Over his professional career, he has been involved in various aspects of ocean mapping, exploration, and characterization, spanning field hydrography, operations management, software development management, business development, and executive management. He holds a Bachelor of Science in math and physics from Mount Allison University (Canada) and a Bachelor of Science in Engineering in survey engineering from the University of New Brunswick (Canada).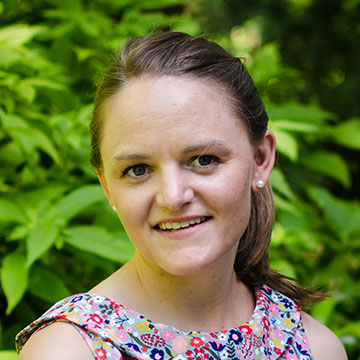 Ocean Engineer Johns Hopkins Applied Physics Laboratory
Clara Smart is an ocean systems engineer with a focus on sensors, seafloor mapping, field testing, and system-level evaluation. Following the completion of her doctorate in 2016 at the University of Rhode Island (Chris Roman, PhD, advisor), she joined Johns Hopkins University Applied Physics Lab as a research engineer. She has experience in sensor implementation, algorithm development, fieldwork/test and evaluation, data collection, and data analysis for both oceanographic research and the Department of Defense. During the course of her work, she has gained substantial at-sea experience conducting oceanographic research and performing test and evaluation of a variety of ocean sensors and systems.